Section Editor: Venezia Michalsen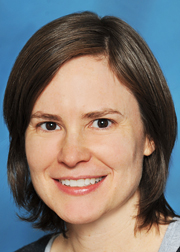 Dr. Nickie Phillips
Associate Professor, Department of Sociology & Criminal Justice
St. Francis College Brooklyn, NY
How did you become interested in the field of women and/or gender and crime? Most of my interest in gender and crime arose from my engagement with popular culture. In my work on crime and justice within comic book culture, I became interested media representations of heroic figures as "crime fighters" and how diverse representations (e.g. in terms of race, ethnicity, gender, sexual orientation) shape perceptions of justice. In a book I co-authored with Staci Strobl titled [*Comic Book Crime*](http://nyupress.org/books/9780814767887/), we wrote about the cultural significance of "heroes of difference." Out of my involvement in comic book culture, one of my more recent interests has been documenting how discourse around online gendered harassment reflects gender dynamics and inequalities in geek spaces.
How do you define yourself as a scholar/activist/educator? In the current political climate, where the electoral college of the United States rewarded a presidential platform buoyed by racist, xenophobic, white supremacist, and misogynist rhetoric, it seems a moral obligation to be an activist. As I understand it, I'm fairly certain the alt-right would characterize me as a "social justice warrior."
What are your current projects or interests? Since the release of my book, [Beyond Blurred Lines](http://nyupress.org/books/9780814767887/), which traces the emergence of the concept of "rape culture" in popular discourse, I continue to be interested in how sexual violence is portrayed in news media and popular culture. In one current project, using the high-profile Brock Turner case as a cultural reference, I've been exploring the characterization of campus sexual assault as a moral panic. I'm interested in how the discourse often shifts away from concerns of sexual assault toward attention to broader injustices of mass incarceration and criminal justice reform as it relates to sex offender policies.
Who is one of your favorite persons (or animals!) to spend time with, and what are your favorite things to do when you are with them? I will admit that I am pretty much a slave to two four-legged associates—Spock, a Bichon Frise, and Clarice Starling, a yappy Havanese-mix.
How do you wind down after a stressful day? It may not sound like much of a wind down for obvious reasons, but I am currently reading up on the rise of the Third Reich. On a lighter note, I've been keeping up with my monthly comic book reads and continue to pursue the elusive "frog" and other jump rope power tricks.
What would you like to be remembered for? In terms of scholarship, I hope that my work on comic book culture and rape culture encourages others to study at the intersection of popular culture and criminology. As a human being, I hope to have made some sort of positive impact on the world.
What is one of your lifelong goals? To lead the resistance. May the force be with us….
Is there a website where we can send people for more information about you? I'm currently director of the [Center for Crime and Popular Culture](www.sfc.edu/popculture) and co-founder of [Crimcast](www.crimcast.tv). The Center is aligned with the Institute for Peace & Justice at SFC and welcomes guest speakers who work at the intersection of crime, media, and popular culture. You can access related events on our [Crimcast website](www.crimcast.tv/events), our images from the [Women's March NYC + Wisconsin](http://www.crimcast.tv/crimcast/2017/1/21/womens-march-nyc-2017), and may follow us on Twitter @crimcast or on [Facebook](https://www.facebook.com/CrimCast/).
What are one or two of your publications that you feel best represent your work? My books, [*Comic Book Crime*](http://nyupress.org/books/9780814767887/), co-authored with Staci Strobl, and [*Beyond Blurred Lines*](https://rowman.com/ISBN/9781442246270/Beyond-Blurred-Lines-Rape-Culture-in-Popular-Media).