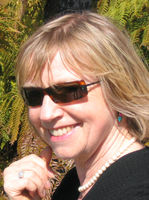 Margaret Shaw, Ph.D.
International Centre for the Prevention of Crime
How did you become interested in the field of women and/or gender and crime?
I am a criminologist and sociologist by training and it has always seemed self-evident to me that you have to consider gender. I worked on a national self-report offending study in England at the Home Office in the 1980's, testing social control theory, and we were among the first to include girls as well as boys. It provides a very powerful way of understanding boys' behaviour too.  I also did a lot of research in men's prisons, and later in Canada, I spent over 12 years working on issues of women's imprisonment.
How do you define yourself as a scholar/activist/educator?
I began my career in policy research, so for me it has always been important to look at how we can apply good research methods and theory, and to question and advocate for social justice. I have also enjoyed teaching which means discussing some of the most important issues around justice systems, and the need to question what is happening.
What are your current projects or interests?
I currently work a lot on issues of women's safety. I have been involved with the NGO Women and Cities International for the past twelve years. They undertake participatory action research in cities around the world, which focuses on increasing the safety of women and girls and their right to access the city. I also work with the International Centre for the Prevention of Crime, and UNODC and UN Habitat on crime prevention. All of this has very significant gender dimensions.
Who is your favorite person (or animal!) to spend time with, and what are your favorite things to do when you are with them?
My husband James – we often spend time at the weekends cycling or walking – and my children and their partners and our very new granddaughter Isla - but she lives far away on Fogo Island.
How do you wind down after a stressful day?
I play a lot of chamber music with friends and in an orchestra – that can be stressful in a very different kind of way from research and writing! My friends refer to me as the criminal cellist.
What obstacles do you feel you have overcome to be where you are today?
Juggling family and work – some of the choices you make are for family reasons and do not make for very straightforward careers for women especially. I think this is changing in the sense that there is much more movement around roles now and less expectation that you will do one thing in your life. The benefits are that I have had opportunities to do some amazing research to help inform policy, and in different countries, as well as to teach, and work internationally with NGO's linking researchers, practitioners and policy makers.
What would you like to be remembered for?
For being part of the collective effort to work for social justice, including giving women in prison a voice.
What is one of your lifelong goals?
To get better at doing what I do – and that includes playing!
Is there a website where we can send people for more information about you?
The website of the International Centre for the Prevention of Crime www.cipc-icpc.org I was very honoured to be interviewed by Rosemary Barbaret last year for the ASC Oral History Project as an International Scholar. Jay Albanese was the master film Director.
What are one or two of your publications that you feel best represent your work? 
Well there is book which a group of us put together in 2013 called Building Inclusive Cities. Women's Safety and the Right to the City (Routledge/Earthspan) and a book I edited with Kelley-Hannah Moffat in 2001 – An Ideal Prison: Critical Essay on Women's Imprisonment in Canada (Fernwood Press).